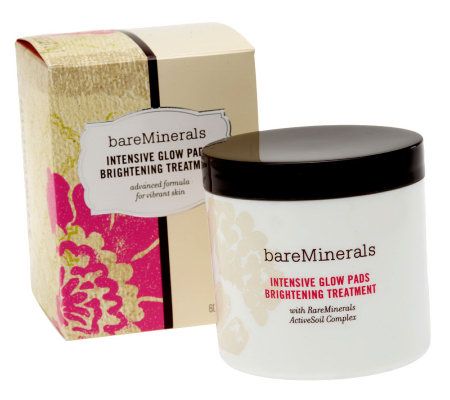 I have no problem saving up for a little while to fork out more cash than I usually would for a product that is going to give me amazing results. This is why I always read every review I can find on every website I can find before buying a product as expensive as this one.
Now, it may not seem that expensive at only $35, but when you do the math...it turns out that without tax, each glow "pad" is exactly $.58. Uhh, that's a lot! that's over fifty cents per pad. So the question was, is it really worth it? Is it really as miraculous as all of the reviews say? I had to find out for myself.
bareMinerals Intensive Glow Pads (if you cannot see on the picture) say on the box, "advanced formula, for vibrant skin". Pssh! Hell yeah I want "vibrant" skin!
So I went all-in. I used these glow pads religiously every night for two months...without the crazy miraculous results that most of the reviews boasted.
What these pads did is really lighten my skin. I already have practically alabaster skin so it is hard to believe, but what I thought was impossible came true...my skin became even lighter! So if you are looking for a lightening treatment, these definitely do the job. The problem is that these pads claim to be a "brightening treatment" which in my mind is a little different than lightening. Lightening whitens your skin while brightening is supposed to give your skin a luminous appearance.
When you read the ingredients in these pads, it seems like a bunch of awesome exfoliating, acne-fighting, nutrient-rich, anti-oxidant and anti-aging products all rolled into one super-product that is free of synthetic dyes and other common ingredients that are not good for your skin. Lactic acid and glycolic acid are two of the main ingredients. Glycolic acid is great for acne and blackheads while lactic acid is a natural exfoliant that can be found in milk (which historically has been used as a luxurious skin treatment--great for at-home face masks...I will talk about this later). The pads also contain lemon extract which is great for acne as well as lightening skin tone.
The pads are actually pretty awesome. There is a bumpy side for more intense exfoliation and a smooth side. I would usually use the braided side first and then wipe the smooth side over my face. But both sides were great and felt like they were really exfoliating my skin.
I don't want to say that I am completely disappointed with this treatment, but it did not give the magical results I was hoping for. My skin was not much smoother than usual, I didn't break out less, and my skin had bouts of luminosity but that was not as intense as I had hoped. Mostly, it just made my skin even whiter than it has ever been before. Perhaps my expectations were just too high, which is always a recipe for disappointment.
Bottom line, if you are obsessed with being tan--do not use these on your face, it will erase signs of ever having been tan in your life. If you have mostly problems with oversized pores and not really any acne, this is probably a great skin treatment for you.
One little tip is that you have to leave your face alone for about a half hour or so after you wipe the pads on your face, then you can follow with moisturizer. But it takes a really long time for the tackiness to go away and the formula to sink into your skin.